About Us
---
Plastipack was founded to meet a need in the swimming pool market for a supplier of quality material, offering reliable deliveries and good customer service. These needs have been embedded within Plastipack from day one and have fuelled our growth as a collaborative customer focused supplier offering performance materials and consistently high quality standards.
As Plastipack has grown and developed we have led the innovation of the materials in both design, longevity and performance. Our products are developed and tested through the efforts of our own inhouse Research and development team and through collaborations with universities specialising in engineering and physics. This has resulted in innovations such as the patented GeoBubble™ Technology and award winning and patented EnergyGuard™ Selective Transmission material.
All our materials are designed to:
Preserve vital water resources through evaporation control.
Reduce energy and chemical consumption.
Provide the longest possible functional life.
Return the cost of investment in the savings provided within the lifespan of the material.
Be recycled at the end of their useful life
The company services our fabricators through the bulk supply of roll form materials to be welded and shaped into covering solutions for the end users. Supplying a global market, 90% of our materials are exported with the majority sold into mainland Europe.
We devote our time to the support of a global network of niche businesses, the ongoing improvement of our products, and processes and educating both fabricators and end users on the importance of persevering resources and reducing the environmental and economic impacts of their applications.
square meters
of material a year
Vision
Plastipack is a leader in Energy & Resource saving solutions
Mission
To lead the market in thought and innovation
To actively educate for positive change
To invest in a better, sustainable future for our team, our community and our customers across the world
Values
TRUST
A reliable partner to customer and suppliers


COLLABORATION
A force to grow
DIVERSITY
Strength of the team


INNOVATION
Continous improvement on performance and quality
AMBITION
To maximise, meet and exceed potential

Our Vision, Mission and Values
Plastipack's vision is to be a leader in Energy & Resource Saving solutions. Every one of our products is designed for high performance and to last as long as possible, ensuring maximum savings for product users.
Our testing has shown that covering a pool, reservoir or water tank will prevent 98% of evaporation, preserving the vital water resource. Many of our products will also provide additional benefits, such as helping to heat a pool, or preventing algae growth. With these advantages, Plastipack products can also save costs and energy required for additional heating or cooling appliances and/or chemical costs.

Innovation
Innovation is at the heart of everything we do. The Plastipack team works closely together to develop and manufacture the most innovative products in our sector.
As far back as the developement of GeoBubbleTM technology in 2012, and in response to customer needs, Plastipack's research and development team have worked to create a range of products designed to have a positive impact on energy and resource consumption.
By heavily investing in Research & Development, and maintaining strong links to local universities, we ensure that we are at the cutting edge of new scientific developments, as well as supporting future scientists in the early stages of their career. Read more about the achievements of our placement students.
The award-winning EnergyGuardTM Selective Transmission pool cover material is a fantastic example of the work that we do in this vein. A winner of the 2018 Business Innovation Award from the Institute of Physics, this product was and is a game-changer in the swimming pool industry, utilising the team's knowledge of physics to enable solar gains into a swimming pool, while also prohibiting algae. Read more.
"[EnergyGuardTM Selective Transmission] represents a disruptive innovation enabling the company to strategically position themselves as world leading in a highly competitive market awash with low cost manufacturers."
Institute of Physics, 2018 Business Innovation Award.
Sustainability
As manufacturers of energy and resource saving products, Plastipack Ltd is committed to environmentally-responsible cradle to grave design and production, ensuring that sustainability is considered throughout the product life-cycle, right through to disposal of materials. This is in keeping with our mission to support a sustainable future for our team, our community and our customers across the world.
We continually monitor our energy consumption in our manufacturing facility, immediately addressing any unnecessary use of resource, as well as working on improving processes to minimise waste in terms of energy and material.
100% of any wastage material produced during the manufacturing process is recycled, and as all Plastipack materials are made from LDPE (low density polyethylene), they are recyclable at the end of their useful life.
Company Timeline
Plastipack Limited is incorporated
Joint Managing Directors Peter Adlington and Edward Campbell-Salmon identify a marketplace for a swimming pool bubble cover manufacturer.
First cover material comes off the production line
Material was produced in 2-meter widths by a small, dedicated team of 5 people.
Second Extruder Installed
Due to the growth of the business, a second extrusion line was installed to meet customer demand.
VapourGuard™ is launched
Designed for agricultural and horticultural businesses to help increase the efficiency of water storage and rainwater harvesting systems. They prevent algae growth and eliminate surface evaporation by as much as 98%.
Storage capacity increased
With the continued success of the business, two extra silos were purchased, and our finished goods storage area was increased by 70%.
First 'Guard' products launched
With a renewed focus on innovation, we launched 3 new high-performance materials with the aim of meeting specific customer needs - EnergyGuard™, Sol+Guard™ and CoolGuard™.
GeoBubble™ is launched
After 5 years in development, GeoBubble™ technology was launched in 2012, introducing a major innovation to the swimming pool market. The new bubble shape was developed with two UK universities and designed to last 25% longer than traditional bubble pool covers.
EnergyGuard™ Selective Transmission is launched
The new and improved version of EnergyGuard™, and the first cover proven to increase solar gains while also inhibiting algae was developed in 2015 with the help of students and academics from University of Surrey.
Pool testing facility opens
As part of Plastipack's goal of developing high performance energy and resource saving products for the swimming pool industry, in 2016 we designed and built a bespoke testing facility. The facility consists of 5 8mx4mx1.2m swimming pools, used to test the effectiveness of our products.
CoolGuard™ Ultra is launched
An upgrade to the original CoolGuard™, CoolGuard™ Ultra was developed in collaboration with students from the University of Surrey. Targeted towards pool owners in warmer climates, the purpose of this product is to minimise solar gains and help to keep water in swimming pools cooler.
Plastipack wins Business Innovation Award from IOP
At an event in the Houses of Parliament, the Plastipack team was awarded the 2018 Institute of Physics Business Innovation Award for the development of EnergyGuard™ Selective Transmission material in collaboration with the University of Surrey. The award recognised Plastipack's excellence in innovation, delivering significant economical and societal impact through the application of physics.
RaeGuard™ is launched
Our newest material was launched just last year, as a cost-effective alternative to traditional heat retention pool covers. The product was named RaeGuard™, after a Surrey University student who had worked on its development, in recognition of our long-standing relationship with UK Universities and their students.
Shredder and pelletizer installed
As part of a drive to increase the sustainability of our materials, a pelletizer and shredder were installed, and went into action in 2022.
Communications
We maintain an ongoing relationshp with our customers past the point of sale. Each customer has access to the entire team for advice on sales process, technical queries and marketing so they are the best possible position to be able to sell our products.
On the rare occassion that a product doesn't meet our high standards, your complaint will be dealt with by our Research and Development team.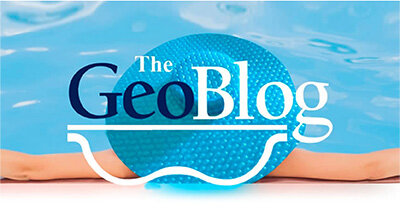 All of our marketing and communications are geared towards educating our customers and end users on the benefits of our products and their impact on saving vital resources including water, energy, time and money. Deeply embedded into these communications is the positive environmental impact that our products can bring. We also ensure that our customers are informed of best practises with their pools and their covers, with the aim of helping them meet the longest possible lifespan for our products.
The GeoBlog is a monthly blog providing information on best practices when running a swimming pool. Alongside our strong social media presence, this helps educate pool owners on economical and sustainable pool use, with a particular focus on the benefits of covering their pool.